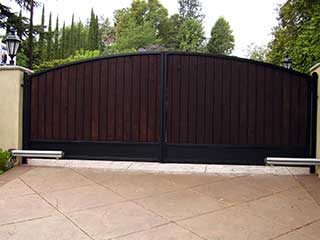 Join the rest of us here in the 21st century by getting an electric gate installed. What is this type of system you ask? Well, it's pretty much what it says on the tin. A type of gate that can work automatically via a motorized electrical device that can be controlled via various remote methods. The benefits are plentiful, as is the selection of various design choices. If you're interested in getting the custom made gate of your dreams, you found the right company for the job.
The Main Materials
First, let's talk about the gate itself. It can come in a variety of styles and designs. One of the main considerations that any interested party should pay attention to is the material. There are currently four main materials that are commonly used to make gates for residential and commercial purposes. The first one is wrought iron. Wrought iron is so tough that it was used to build the Eiffel Tower. If you're going for intricate designs, this is the way to go. If you're going for a more minimalistic look, then you could go for wood or steel. Steel also tends to lend itself better for industrial aesthetics, while wood is often better suited for the country-style look. Most roll up storefront gates are made of steel as they need to provide extra security along with convenience.
The Budget-Friendly Choice
Aluminum is a great choice for this looking for low maintenance and light weight material that won't require as powerful an opener to move. However, it is liable to dent or break far more easily than its counterparts. Of course, each material presents different maintenance requirements and relative pros and cons when compared to the other ones, so you should consult with professionals (that's us) to ensure you're going with the right material for your needs.
Problems with Gate Openers
Having an electric gate opener is akin to having your personal doorman. Though this mechanical analogy may not tire as easily as its human counterpart, it will still sometimes give out because of wear and tear and various other reasons. When this happens, you find it difficult or impossible to use the system or some of its features. Understanding the reason for the malfunction, let alone fixing it, is no easy task, and you leave it to the experts. Gate Repair NYC is here to help when you find yourself faced with anything from circuit board issues, physical damage to the drive system, or strange gate behavior that requires some troubleshooting.
Hands-free Electric Gates
When you want the complete experience of real automation, Gate Repair New York City is here to provide it. Get in touch with us today and let us help you find the best intercom system and opener for your driveway or storefront gate.