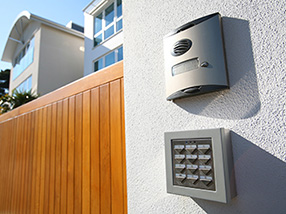 With a gate intercom, you can communicate with visitors without having to be nearby. There's a wide range of models available, including wired and wireless intercom systems. If you're looking to get a new gate intercom installed, or need to have a problem repaired, Gate Repair NYC can help. Many store and homeowners in the five boroughs areas call us for gate intercom services. So whether you need someone to do gate repairs close to Queens or somewhere in Manhattan, know that you've got us to rely on for help.
Gate Intercom System Not Working
If you let the condition of your gate intercom degrade over time, it could end up costing you more money in the future. Cold, wet weather and general wear and tear can cause problems for your intercom. The more you neglect it, the more likely problems will occur.. That's why it's important to keep on top of things. Gate Repair NYC offers same day intercom repairs to all the nearest areas, Brooklyn and Staten Island included. By getting your gate intercom system fixed before the problem gets worse you can save money in the long run.
Different Gate Intercom Types
You've got quite a selection to choose from when it comes to gate intercom systems. If you're looking for the fastest simplest installation, then a wireless intercom system has a lot to offer. Apart from being easier to install, the lack of wires means no falling tree branches and flying debris pose a threat. They can't influence your ability to communicate with visitors on the other side of your gate. Unless the hit the intercom directly, that is. With a wired gate intercom, you won't deal with signal interference, though. Communication would probably be smoother and clearer too. A lot more nuance and variety go into it, of course. Better consult with an expert to ensure you find the perfect gate intercom system for your needs.
Gate Intercom Installation
The intercom for your gate needs to work reliably. That means that the installation process is crucial. If the gate intercom system doesn't work often, this could stem from bad installation work. Making sure it's connected properly and testing the system for voice clarity and response is very important. If you want a wireless gate intercom or a wired system, there are certain requirements. A wireless intercom is faster to install but will need to be installed somewhere its signal won't get blocked. A wired one takes longer to set up but often works more reliably. Still, the wires it uses need to be protected from damage. If something falls on them and they get cut, the intercom won't work. Be sure to consult with a pro from Gate Repair NYC to ensure you're getting the best gate intercom model for your store or home.
Where to Buy Gate Intercom Systems?
From us, of course. Get a New York-based gate professional to consult you on the type of features your gate intercom should have. There's a big difference between gate intercom for homes and ones for commercial establishments. For your home, you want something simple that allows you to control your gate from afar and communicate with guests. A gate intercom for business and storefronts may need to have enhanced security or other special features. You may want a gate intercom with a camera or some kind of alarm system. Have an expert from Gate Repair NYC explain the different options to you so you can choose an intercom system suitable for your budget and needs.
Gate Intercom Services Near You
Gate intercom repair and installation are complicated, delicate projects. A small misstep or a simple mistake could end up costing you a great deal of money. That's why you should leave these types of works to the experts. The technicians you'll meet after calling Gate Repair NYC are absolute pros. That means they're capable of taking on any and all jobs and completing them to the very highest of standards. Same day gate intercom repairs available in the five boroughs and nearby. From the Bronx to Staten Island. Simply give us a call. Do the same if wondering how to install a gate intercom system or if you want to buy a new device and have it set up by pros.