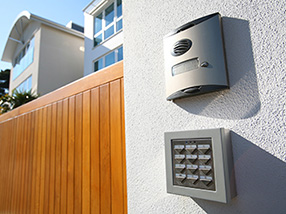 Our team provides a wide range of intercom services.
Keep Your Intercom In Top Condition
If you let the condition of your intercom degrade over time, it could end up costing you more money in the future. Cold, wet weather and general wear and tear can cause problems for your intercom, wearing it down and increasing the likelihood of it malfunctioning over time. That's why it's important to keep on top of things by calling us. Our technicians will be able to fix any minor problems as soon as they arise and spot any potential future ones before they even occur, saving you time and money in the long run.
We Repair And Install
Whatever it is you need we have you covered. Whether you need an existing intercom repaired, or a new one installed, our technicians can do it all quickly, effectively, and at a fair and affordable price. We work with the best brands and highest quality parts, meaning that when we make a repair or installation, your intercom will stay working for years to come. You can rest assured that you're in safe hands when you call on us!
Let Our Experts Help You Today
Installing and repairing intercoms is a complicated, delicate process. A small misstep or simple mistake could end up costing you a great deal of money. That's why you should leave it to the experts. All of our technicians are experts and trained professionals, meaning they're capable of taking on any and all jobs and completing them to the very highest of standards. We have the best and most affordable services in New York, NY, so get in touch with us today and let us get to work!
Call us Now
Contact Gate Repair New York today and book a time and date for us to come and visit that works best for you!