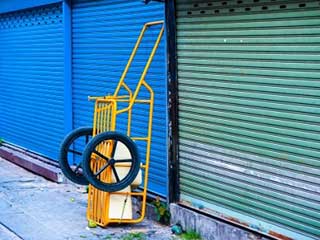 Storefront roll up gates are probably less trouble than any of the alternatives, but ignoring yours completely will likely cost you time, money, and frustration when it starts breaking down before its time. Here are some simple things you can do to keep your system in working order and tend to problems before they can become serious.
Keep Your Ears Open

The first sign of trouble with a rolling gate, or with most large mechanical devices for that matter, is often a strange noise. If your unit begins making sounds that it didn't used to during operation, you should start looking for the source and consider getting it serviced soon. Squealing or scraping noises point to an issue with the slates or motor, while rattling or clicking usually has to do with the torsion system.

Check The Tension

If your gate is opening or closing more slowly than it should, there's probably an issue with the spring tension. Difficulty in rolling up usually means that the springs need to be tightened, while slowness while moving down means they may need to be loosened. If it has an issue with both, or if it opens or closes partway before stopping, then the problem might be with your opener.

Roller Chains Too

From time to time, you should look at the chains connecting the opener to the roller. If the chains are visibly hanging loose, then they need to be tightened. Failure to keep the roller chains tight will slow down your system and can eventually lead to other, more serious problems that are best avoided.

Keep It Clean and Slippery

Keep the tracks free of dirt and dust that can create friction or drag and wear down your opener, and definitely keep them and the gate slats themselves dry to prevent rust. All moving parts, particularly the roller chains and the junctions between the slats, should also be lubricated every three months. Paste wax and silicone spray are considered the best lubricating agents for roll-up gates.

Seek Help From Nearby Gate Experts

If your roll up gate is having issues, avoid attempting any complex and dangerous DIY repairs and simply contact Gate Repair New York. Professional assistance for all rolling and other commercial gate problems are available near you.